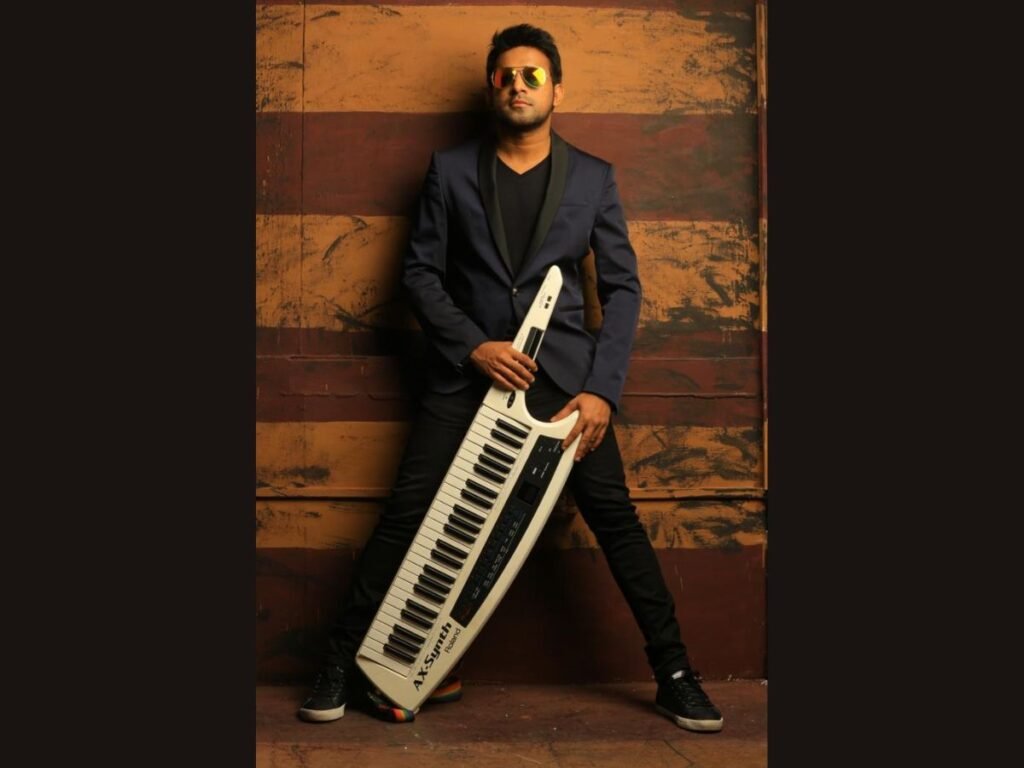 New Delhi (India), July 25: Stephen Devassy, an exceptional Performing Artist and Music Composer hailing from India, has been captivating the nation with his extraordinary talent. Renowned for his remarkable versatility and seamless blending of various musical genres, Stephen's journey as a musician began as a keyboard player, eventually soaring to become one of India's most sought-after musical icons. His music is a harmonious fusion of Western and Indian classical melodies, jazz, blues, and rock, painting a vibrant canvas of musical brilliance.
Having collaborated with some of the biggest names in the Indian music industry, such as Ustad Zakir Hussain, Ustad Amjad Ali Khan Sahab, Four big concerts internationally with Padmavibhushan Umayalpuram Sivaraman, Padmashri A Hariharan, Oscar winner A.R. Rahman, Padmashri Shankar Mahadevan, Shreya Ghosal, Padmashri Dr L Subramaniam, and Percussion king Padmashri A Shivamani, Stephen's journey has been adorned with a myriad of stellar partnerships. Furthermore, his collaborations with international artists like Pete Lockett, Marco Minnemann, and Rodney Holmes have showcased his unmatched versatility and immense range as a musician. Notably, he has even joined forces with prestigious orchestras such as The London Philharmonic, The Oslo Philharmonic, and the Czech Philharmonic Orchestra.
Beyond his brilliance as a musician, Stephen Devassy is an accomplished Music Director and Composer, contributing his genius to numerous film soundtracks, including the title track for 'Bigg Boss Malayalam,' hosted by the esteemed Mohanlal. His own albums, such as "Sacred Chants," "Romanza," and "Project 70," have garnered immense success and acclaim, celebrated for their experimental sounds and seamless fusion of Indian classical music, jazz, and rock. The global audience has embraced his music wholeheartedly, with his works available on major streaming platforms, resonating with music lovers across the world.
Now, the virtuoso is all set to unveil his latest album, 'EKTA – For Unity For Peace.' This masterpiece delves deeper into the experiences of those affected by all that's been happening around the world over the last few years. Stephen shares, "The creation of this project has been an extensive journey, standing as my most ambitious undertaking to date. This album represents a humble expression of everything I have experienced in recent years, particularly in the face of the world's challenges. My strong connection with the youth and people of our generation enables me to empathize with their emotions. Through 'EKTA,' I aim to convey a message of hope and unity, urging everyone to become ambassadors of peace."
Beyond his musical accomplishments, Stephen Devassy wears the hat of a philanthropist, leveraging his influence to provide underprivileged children with access to music education. His involvement in various charitable organizations and significant contributions to the music education sector in India showcase his compassion and dedication to making a positive impact on society.
As a live performer, Stephen is a force to be reckoned with, gracing some of the grandest music festivals in India and across the globe, including the prestigious Jesus Youth Conclaves. His music transcends mere entertainment, carrying profound meaning and a powerful message. Utilizing his platform to raise awareness about social issues and advocate unity and love through his art, Stephen garners adoration from fans who appreciate not just his talent but also his altruism and commitment to creating a better world. His immense talent, adaptability, and unwavering dedication have earned him a devoted fan base and garnered critical acclaim.
For those yet to experience his enchanting melodies, now is the perfect moment to discover the brilliance of this exceptional artist and his awe-inspiring music.
If you have any objection to this press release content, kindly contact pr.error.rectification@gmail.com to notify us. We will respond and rectify the situation in the next 24 hours.